Found in the Cellar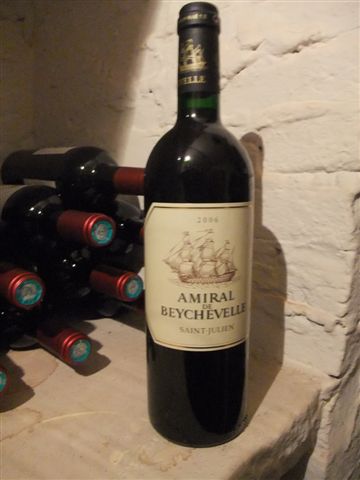 Amiral de Beychevelle 2006 St Julien
The second wine from the great Chateau Beychevelle Cru Classé from St Julien in the Medoc. All the great Bordeaux chateaux produce second wines, which are tremendous value. Half or less of the price of the main chateau wine, but normally far better in quality than half as good. First class wines from top world-class producers.
The famous Chateau Beychevelle is one of the pioneers of Sustainable Viticulture, which will be reviewed later in the Viticulture section.
Amiral de Beychevelle, the second wine, is made from a traditional Bordeaux blend of grapes - 62% Cabernet Sauvignon, 31% Merlot, 5% Cabernet Franc and 2% Petit Verdot. The wine is matured for 18 months mainly in one year old barrels, with 15% in new oak.
Second wines are made normally to be drunk younger than the main chateau wines. This 2006 is drinking superbly now (February 2013) at just over 6 years after the vintage (September) and will be drinking well for at least another 6 years. Chateau Beychevelle 2006 itself needs keeping until 2016 to reach its peak, but will then keep and drink well for several years after.
Tasting note (February 2013): Beautiful deep, ruby colour; tones of cherry and blackberry on the nose, with good fruit; full bodied and elegant on the palate with soft but full tanins, some oak and good ripe fruit.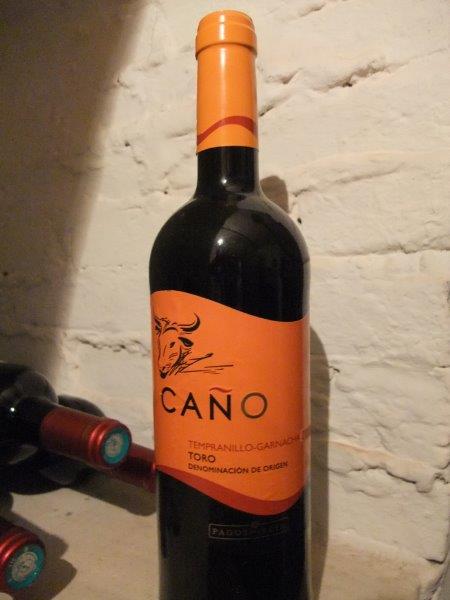 Cano 2011 - Toro DO Tempranillo Garnacha
Tremendously good Spanish red from an almost unheard of region. Deep flavoured, ripe fruit and good length.
From the Toro Denominacion de Origen region in the North of Spain near the Portuguese border. Made from a blend of classic Spanish grape varieties - Tempranillo and Garnacha.
Deep cherry red colour with purplish highlights. Definite cherry and raspberry on the nose with hints of mulberry. Fruity, fleshy and lively on the palate, with mouth-filling soft, ripe tannins. Great depth and length. A sipping wine.
The back label says 'good with pasta and starters', but it was also great with roasted chorizo and white beans in garlic and tomato.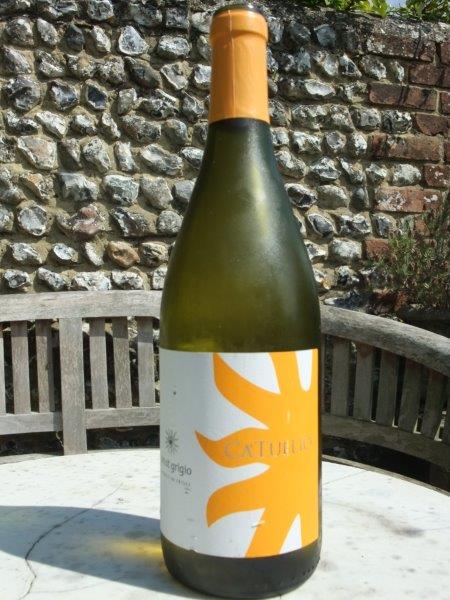 Ca Tullio 2011 Pinot Grigio
If you thought Pinot Grigio was just an inexpensive slurping wine of no consequence, this wine would make you think again. A first class wine with real depth and character, resembling Pinot Gris from Alsace or even the Rheinfpalz in Germany.
Ca'Tullio 2011 Aquileja Pinot Grigio - Friuli DOC 13per cent
A DOC area from Northern Italy, at the extreme North of the Mediterranean, with a special maritime micro-climate
Tasting Note: Very full aromatic nose, with grapefruit, slight spice and almost tropical notes. Light straw yellow in colour.
Palate has intense flavor and good fruit, with perfectly balanced acidity. Good depth and length, with reasonably full body.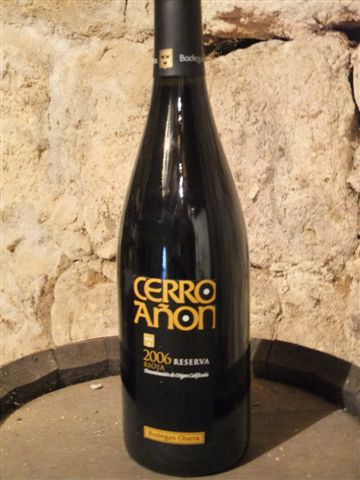 Cerro Anon 2006 - Rioja Reserva
Very well-made Rioja from this classic region of Spain. A combination of wood ageing for the Reserva quality and bottle ageing subsequently, give this wine great balance and structure.
Good depth of colour, well-structured, firm tannins yet not over-powering as with some Riojas. Good expression of the Tempranillo grape variety. Medium to long finish with balanced fruit, tanin and acidity. Some power at 14%, but not over the top.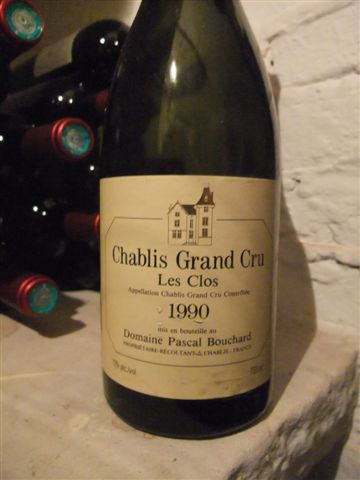 Chablis Grand Cru 1990 Les Clos
22 year old top quality Chablis - still drinking superbly!
22 year old top quality Chablis - still drinking superbly! This bottle was truly 'found in the cellar' since it had been forgotten at the bottom of a wine rack! From the great house of Domaine Pascal Bouchard
However, it was still in great condition when opened on 24th December 2012. Deep straw yellow colour, with amber hints. Tremendous complexity on the nose with a classic 'old white burgundy' character - totally different to the younger fresher styles. Again very complex on the palate with great length of flavour and surprisingly good body after this length of time. A delight with wild seabass served with a sauce made with fish stock reduction and Chassagne Montrachet.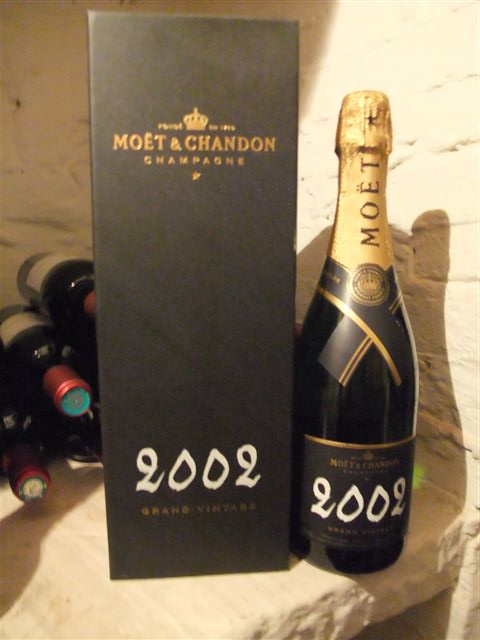 Champagne Moet et Chandon Grand Vintage 2002
Moet et Chandon Grand Vintage champagnes are luxuriantly aged wines of distinguished character first created by the House in 1842 to meet the demands of British and American Connoisseurs for more mature wines. Grand Vintage champagnes are rare and highly prized as vintage champagnes and only created in exceptional years.
Established in 1743, Moet et Chandon owns the largest estate in Champagne. The visionary spirit of Jean-Remy Moet, grandson of founder Claude Moet, has long inspired the Maison, for it was he who recognised the universal appeal of champagne and introduced the luxurious pleasure of the finest of fine wines to the world.
Grand Vintage 2002 is a quintessential embodiment of Moet et Chandon Grand Vintage champagnes. The year's temperate weather, the warm and windy harvest period and the uniquely ripe grapes laid the foundations for a wine of exceptional harmony, whilst the low dosage and the seven year ageing period imbue this rare wine with optimum maturity and a compelling personality.
The Chef de Cave (Master Winemaker) carefully listens to the wine as it matures and develops its unique personality, releasing it only when it has reached its optimum expression.
Tasting Note (February 2013): Delicate golden colour, with fine, lively mousse. Nose yeasty, with toasted brioche, pear and nectarine (slightly marmitey - for those that love it!). Creamy, smooth and elegant on the palate, with great structure, deep complex citrusy flavours and long finish. Quite delicious.
Such a wonderful, structured and full-flavoured champagne is extremely versatile. Apart from being amazing on its own, it accompanied Orkney crab paté with melba toast equally well to fresh mandarine sorbet with Italian amaretti biscuits.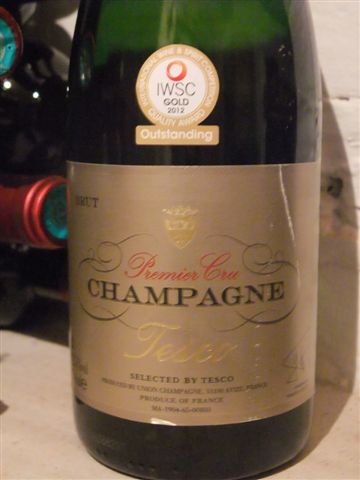 Champagne Premier Cru - Tesco
Surprisingly good lower priced champagne from Mr Tesco! Very well-made and streets ahead of many which are much more expensive.
Very good champagne at under £15 a bottle (December 2012) chosen and recommended by one of our consultants. Strong fine mousse, good full, yeasty nose and a fresh, yet deep palate with good length and a clear, crisp finish. Really good value.
Produced by Union Champagne in Avize, the wine was awarded a Gold Medal for Outstanding Quality in the 2012 International Wine and Spirit Competition (IWSC).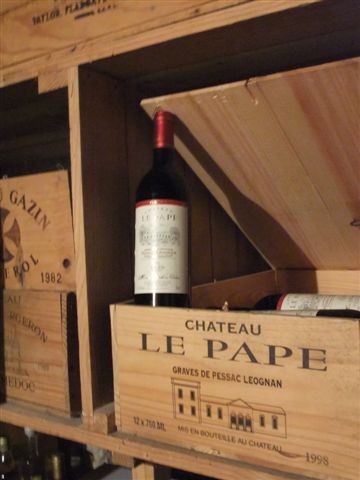 Chateau Le Pape 1998 Pessac Leognan
A mature wine (14 yrs+) from the central Graves region of Bordeaux. Showing its age in terms of complexity, maturity of character and subtlety, yet with a underlying youthfulness of spirit.
Feb 2013. A great find from the Bordeaux region. Well-made, balanced wine with good age in the mid quality range, with very interesting flavours and aromas.
Deep ruby colour tinged with amber. Complex bouquet with leather and tobacco - St Bruno Flake. Slight but definite liqourice. Palate has light tanins and fading fruit but with complexity and good length.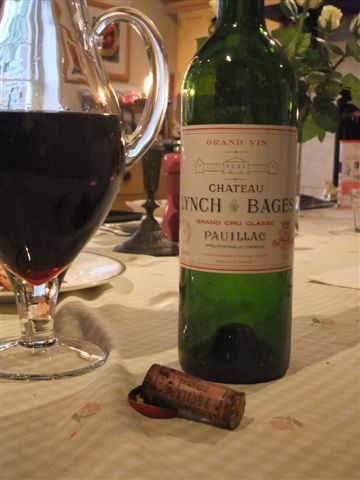 Chateau Lynch Bages 1984 Pauillac Grand Cru Classee
A Grand Cru Classe from Pauillac in the Medoc region of the Bordeaux vineyards, that punchs considerably above its weight in terms of its classification which dates back to 1855. The 1984 vintage was not great, but this bottle was still drinking remarkably well after 28 years (December 2012).
Another bottle opened in December 2012 was well past its 'sell-by date' and had oxidised to the point of undrinkability. But this bottle was still drinking well, with good body and balanced acidity. Although the fruit was drying out a bit, there was still a little light tannin and great complexity on both nose and palate. Hints of leather, cigar boxes and dried fruit on the nose, with an almost indescribable palate of 'old good Bordeaux' which is instantly recognised once experienced.
Chateau Lynch Bages is the all-time favourite of the Society's chairman Richard Esling. Although 1984 was a lesser vintage, it proves just how good the wine-making is at this chateau, that bottles can still be enjoyable after 28 years.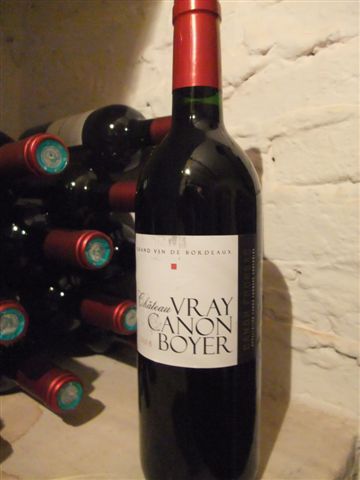 Chateau Vray Canon Boyer 2008 - Canon Fronsac
A great example of a Canon Fronsac, merlot dominated claret next-door to St Emilion.
A great example of a Canon Fronsac, merlot dominated claret next-door to St Emilion. Tremendous value from this under-rated sub-region.
A really great 'everyday' Bordeaux red. 75% Merlot and 25% Cabernet Franc. Deep ruby colour, plummy ripe fruit on the nose with a hint of leather. Deep plum fruit palate, with blackberry and wild cherry tones. Medium length and body, with a soft, velvety finish. Good structure with ripe, light tannins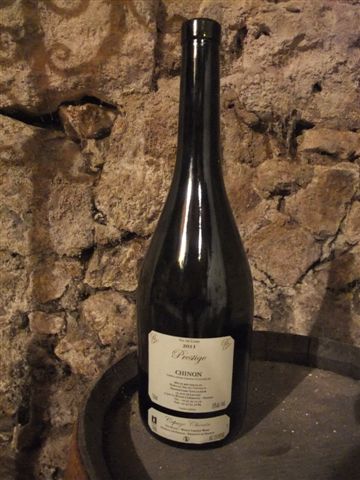 Chinon Blanc 2011 - Domaine Bruno Preveaux
Made from the Chenin Blanc grape variety in a small, well tended vineyard just outside La Roche Clermault in the Touraine region of the Loire. Those that know the Chinon appelation, usually think of red wine, but a small percentage of white is made from the classic Loire grape variety - Chenin Blanc. This is a particularly fine example - one of the best in existence and worth tracking down if on holiday in the region.
Light straw colour with golden hints. Fresh, fruit nose, with hints of ripe melon. Crisp, full flavoured palate with good depth and length and a clean finish. Great on its own as an aperitif, but also will stand-up to a varity of dishes due to its depth of flavour. Chicken dishes and all types of cold meats
are perfect. (Feb 2013). A wine to be drunk within 3 or possibly 4 years of the vintage to be at its best.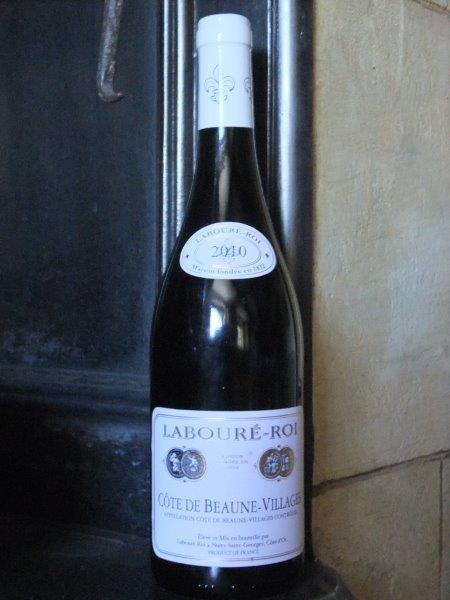 Cotes de Beaune Villages 2010 - Laboure Roi
Classic red Burgundy drinking well now (August 2013) and good for a few years more. All the great characteristics of Pinot Noir.
Translucent cherry red, great raspberry nose and full long palate. Great with barbecued pork tenderloin and spare ribs.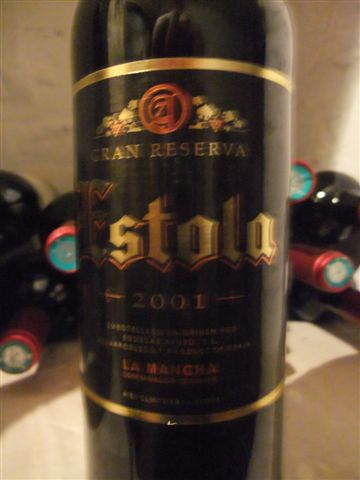 Estola 2001 Gran Reserva - La Mancha
An amazing wine from an area of Spain which normally makes more everyday drinking wines - La Mancha. This wine, however, is big, powerful stuff. Difficult to find in the UK but it shows just what really good winemakers can do in an area not that known for top quality wines.
Made by Bodegas Aynso in Villarobledo, from a blend of local Cencibel grapes with Cabernet Sauvignon, the wine is aged in French oak barrels for at least 15 months. Subsequently aged in bottle for several years prior to release for sale. 230,000 bottles were produced, each one being numbered. This bottle was no 042,091. Still 187,909 to go!!
Tasting note (Feb 2013): Intense, deep black/red colour. Warm liquorice and smoke on the nose, with some wood and vanilla. Palate still has very firm tannins. Great complexity of flavours, full-bodied, voluptuous and mouth-filling. Good length. A sipping wine, rather than gulping!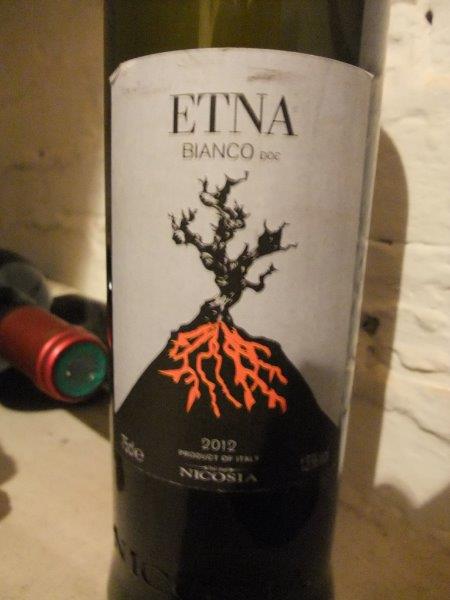 Etna Bianco 2012 Nicosia
A very individual and characterful white wine from southern Italy. Available from Marks and Spencer. Click for more details.
Lemon yellow, lightly aromatic white with wonderfully concentrated fruit on the palate. Grapefruit with a tingle of crisp minerality, deep apple ripeness and a wonderful warming hint of honey and spice.
From the south eastern slopes of Mount Etna, the mineral-rich volcanic soils of these vineyards bring great individuality and character to their wines. A harmonious blend of Carricante (not encountered often) and Catarratto.
Serve this wine with fish and rich seafood dishes such as crab pate or baked seabass. This flavoursome wine will also work well with chicken salads, quiches or fresh tuna.
Highly recommended as something a little different. Available from Marks & Spencer.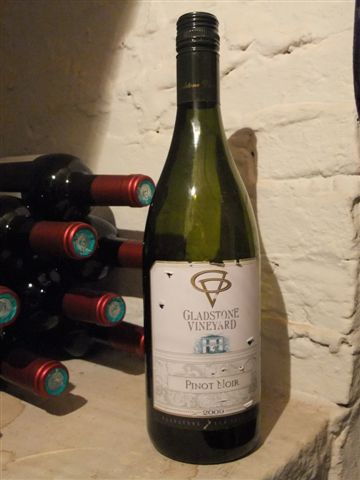 Gladstone Vineyard Pinot Noir 2009 New Zealand
First class Pinot Noir from New Zealand. It has the classic light ruby colour of this grape variety, more akin to its European counterparts, yet there is no mistaking the New World origin when it comes to the intensity of fruit on the palate. Full, ripe fruit with great body yet elegant, well-balanced acidity and good length. Drinking superbly now (February 2013) but probably not quite reached its peak of complexity. Good for many more years.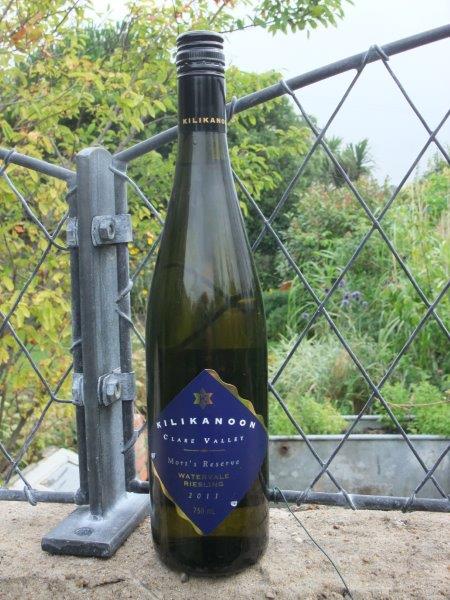 Kilikanoon Clare Valley Riesling 2011
Tremendous, well-made, Riesling from Clare Valley in Australia. Typical petroley aroma and full, fresh palate. Great similarities to high quality Alsace Riesling, but with greater fruit concentration in keeping with its New World pedigree.
Kilikanoon 2011 Mort's Reserve Riesling
The wine is made from grapes grown in the finest parcels of the Khileyre and Mort's Block vineyards in the Watervale sub-region of Clare Valley, South Australia.
The grapes are harvested by hand at optimum ripeness to create an intensely flavoured wine.
Floral and citrus notes on the nose, with the unmistakable 'petrol' aroma. Full, deep flavor on the palate with forward fruit character and well-balanced, fresh acidity.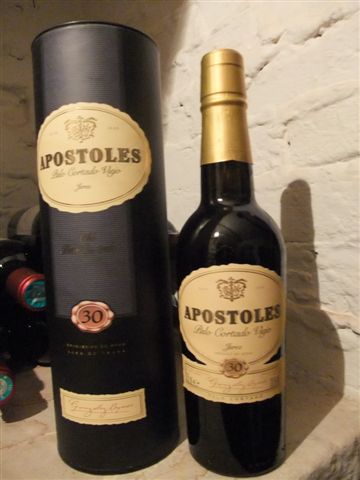 Palo Cortado Viejo - Apostoles 30 yr old
Sherry! Sherry? Yes sherry! After many years of neglect by the British public, having condemned it to the ignominy of 'Auntie's sideboard', it is making a much deserved comeback. Good sherry is a much under-rated drink and can be sublime, along with being a very versatile wine, accompanying many different dishes - or appreciated just on its own. To me, Palo Cortado is the ultimate style of sherry, and this 30 yr old is a supreme example
Made by the great sherry house of Gonzalez Byass, the Apostoles Palo Cortado 30 yr old is pure liquefied Christmas cake! Yet dry. It has spectacular intensity conferred by 30 years maturing in oak. Excellent with full flavoured pates and cheeses and superb as an after dinner drink with dried fruit and nuts or the Spanish hard almond nougat called Torrone.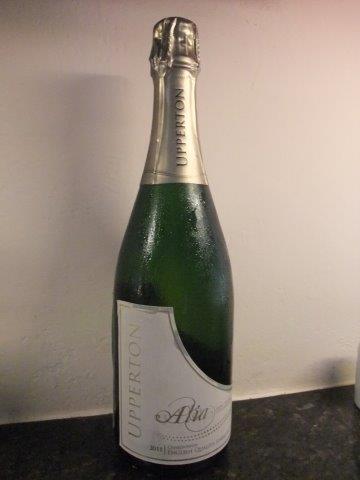 Upperton Alia 2011 Blanc de Blanc
Newly released in September 2014, this is a truly great example of an English sparkling wine. Excellent quality dry sparkler made from pure Chardonnay grapes grown in vineyards near Petworth, West Sussex. Click for full tasting notes.
Upperton Alia 2011 Blanc de Blanc
Light gold. Strong persistent mousse of fine bubbles.
Pronounced brioche and slight toast on the nose, with citrus and floral hints. Also light melted butter aroma.
The palate has good, firm body with full, rich flavours and balanced acidity. Complex flavours with apple, yellow plums and citrus fruits, good length and a slight biscuity finish.
Deliciously refreshing yet rich and complex. A great expression of the Chardonnay grape variety, with a distinctly English edge adding further interest.
Tasted 28th September 2014.
Richard Esling AIWS